On the 13th of February 2023, in Milan, Leaders First hosted the "Metaverse for Business" hybrid event. Members and special guests joined in-person and online for the live streamed talk about the metaverse future development as a unique space for all.
The first speaker, Meta's Country Direct for Italy, Luca Colombo, shared with the audience an inspiring presentation full of insights from his company about current and future possibilities of Metaverse, with plenty of practical aspects for consumers.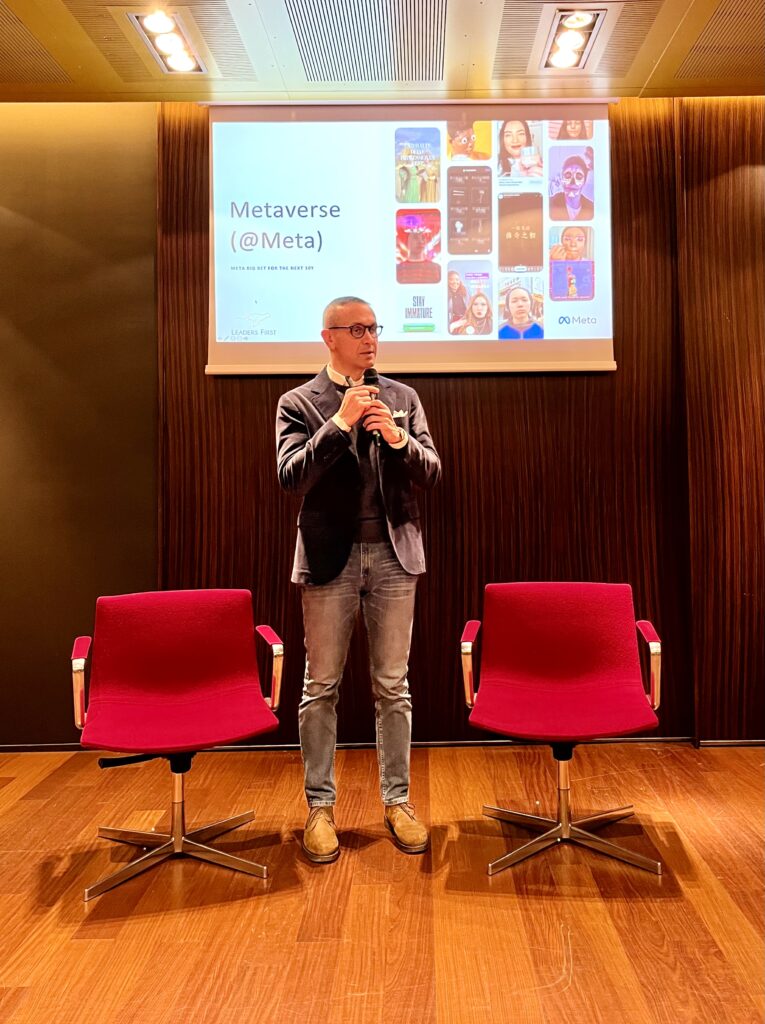 Luca shared that, back in 2011, Apple set out to become a "Mobile First" company. This required a lot of effort from software developers to adapt the programs designed for PCs with a smaller screen, that of the telephone. It has gone from one PC-centric Internet access to a phone-centric one.
From his point of view, the next step is the Metaverse: an immersive 3D environment that can be accessed with a wearable object. In Metaverse human and physical interactions won't be canceled, instead, the new environment will help users:
– cover distances and perfect remote interactions
– simplify any interaction between machines and people with disabilities.
To achieve these goals, approximately $3 billion is invested each quarter in research and development.
Luca Colombo: Meta bought Instagram when it was still a small company. In 2015, Meta bought Oculus, when no one was talking about virtual reality yet. Thanks to Mark Zuckerberg's extraordinary ability to immediately recognize the potential of new ideas and projects, Meta is used, as a company, to make long-term investments. In 2010, the internet was dominated from PCs and consequently all the programs developed were for PCs. Today the Internet is dominated by Smartphone (Apple or Google) and suitable products are developed for it. In the future, in the Metaverse, hardware and software will be in complete harmony, also ensuring greater security for users. Artificial Intelligence, already today, is able to recognize and remove all content who do not comply with our Policies.
The next panel of speakers included Duccio Vitali, Founder and CEO, Alkemy, a Public Company listed on the Milan Stock Exchange, leader in Italy for the Digital Transformation. Giusy Laganà, General Manager at FARE X BENE, an association committed to support new generations to raise awareness, prevention, education and fight against gender differences, discrimination, bullying and cyberbullying in schools, by using the most innovative technologies.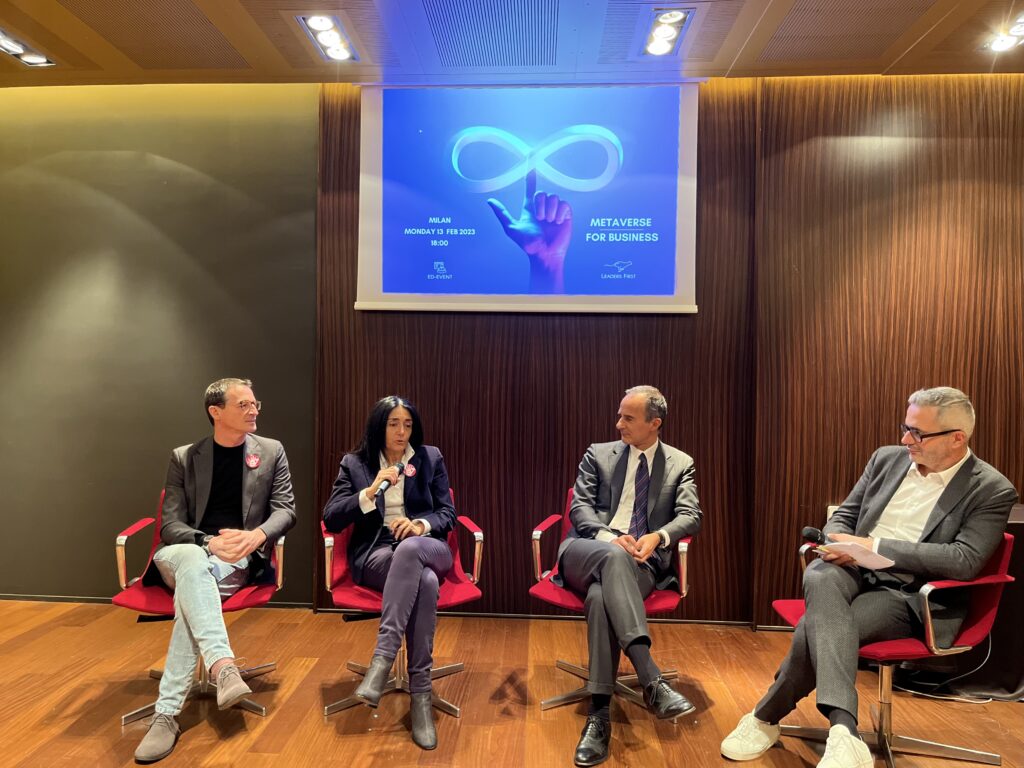 The panel moderator, Massimo de Zordo, Marketing Director Domestic Apliances at PHILIPS:
"Are companies aware of the possibilities that the Metaverse offers?"
Duccio Vitali: I think companies still haven't understood what the Metaverse offers, like in 2008 it was unthinkable to adapt a business model to mobile. Technology has a very strong impact on the business models of companies. Companies must understand the opportunities that the technology offers.
Giusy Laganà: If on the one hand the companies have not yet understood the possibilities that Artificial Intelligence offers, young people have understood it. Our association, born 13 years ago, is responsible for raising awareness among young people on the subject of conscious use of the Internet.
"Is there a risk that augmented reality could isolate kids? How do you educate them?"
Giusy Laganà: We have set up a "play to learn" system. We adapt to immersive reality of play that children experience every day. But let's make sure we convey the modalities correct approach to other users.
Lorenzo Galimberti from FARE X BENE: as an association, we put ourselves on the line, becoming part of the world of gaming (which is already a precursor to the Metaverse) and enticing kids to take part in educational experiences, in and out of virtual reality.
"Gaming is a very important aspect of Artificial Intelligence. How can you make that companies also adapt their business models to this reality?"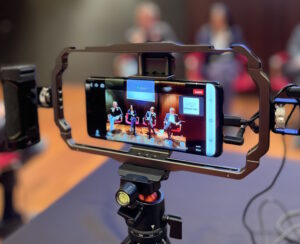 Duccio Vitali: Gaming, in an immediate way, makes virtual reality extremely easy to know and understand. I believe that companies must invest, first of all, in skills of those who work there, in order to know and make the most of the digital transformation we are undergoing living. Monetization will come at a later date.
"In the era of digital transformation, there is still some resistance to change in the Companies?"
Duccio Vitali: There is a generation gap even in companies and, very often, there are no top management still able to adapt to the skills that technology requires. Many companies, above all Italians, are afraid to face such a change because they fear the possibility of failing. We need leaders with advanced digital skills, and a strategic approach based on mindset and skills.
"In the family or school environment, is there resistance to the change that technology has imposed?"
Giusy Laganà: Italian teachers do not have high digital skills, as we have found during the Lockdown with distance learning. We take care of training not only young people, but the entire educational community, including parents.
Lorenzo Galimberti: We educate young people to become "educators" of their parents. We encourage kids to share their digital life with adults, who are often still too afraid of the digital world.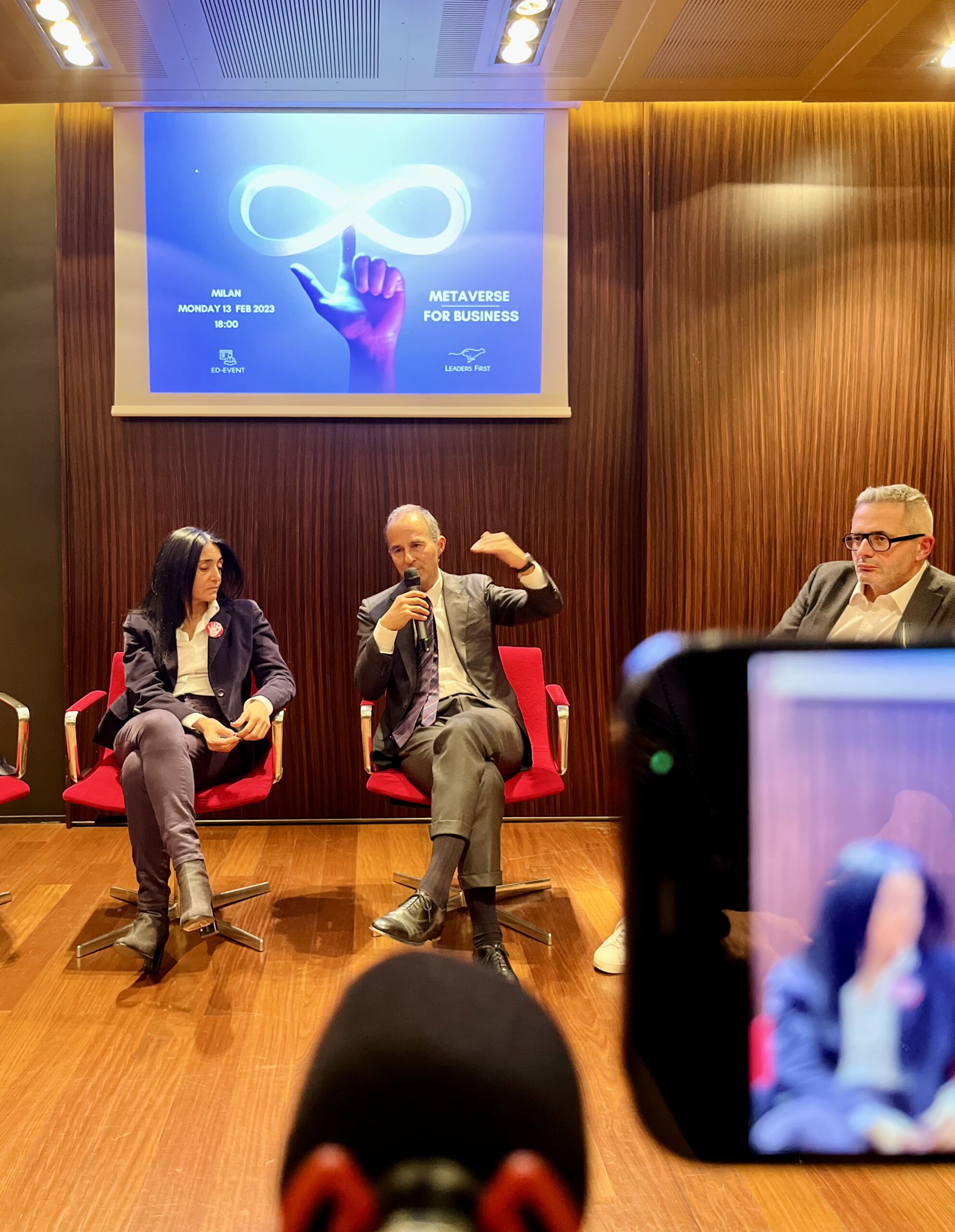 See all photos from the event in our Gallery at this link.