This week, we are bringing you another interview in our "5 Minutes with a Leader" series, this time with Andrea Viganò, a Board Member at Archetipo srl and a Premium Member of Leaders First. Andrea has extensive international experience from London and New York which he is applying now to innovate and improve the brand of Archetipo.
Hello Andrea, can you please tell us a bit about your company and your role?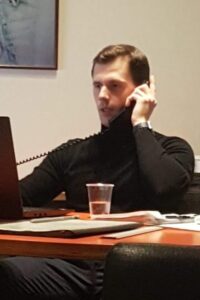 Archetipo srl, located at Biassono, with more than 50 years of experience is specialized in building development (especially residentials), interior design, rebuilding and property valuation. Archetipo srl is able to offer all services to own customers due to its efficient team. All its last realizations are based on green building and Passive House adopting best technologies necessary to improve the living comfort, reduce carbon dioxide and minimize to almost 0 all consumption costs. Actually, its most relevant realization is Garden House with around 200 residential apartments, in Via Padania, Biassono (MB). Now Archetipo's goal is extending to Milan with a new initiative, Residenza GREENMI, in Rozzano, which is seen as the evolution of Garden House
My main role is the management of sale of all Archetipo's properties. I am responsible for Web Marketing (websites and all Social Media). In addition, I am responsible for new and potential partners looking for new opportunities to exploit. Another role is property valuations, in particular for all potential customers that need to sell their properties. At the same time I allow customers to value their possible monthly mortgage payments by updating all interest rates of all banks which are related. I contribute by offering new and innovative ideas and finally, I am responsible for administration.
How did you get into it?
Archetipo srl is a family business and I am a part of it. My passion for the Real Estate Market started with my thesis for a Bachelor's Degree in Banking and Finance, at Cattolica Milan, in which I analyzed all main European and Listed Real Estate companies by valuing their economic and financial performances. Then I achieved more skills and experiences working in this kind of market in both London (UK) and Manhattan (NY). Once I finished my global experience, I returned at Archetipo srl practicing all that I had learned.
What is your favourite thing about your job?
My favourite thing about the job is making different types of property valuations because I practise not only all that I have learned during my work experiences abroad but also all that I have studied during my Bachelor Degree at Cattolica Milan and Dual Degree at Hult International Business School in Boston (MA). I like to understand what the Real Estate Market condition in a certain location is and how it changes through a specific period of time.
Can you please describe what leadership means to you?
In my opinion, leadership means the ability to lead a team by offering new and innovative ideas necessary to get success and contributing to improve own business by differentiating it from its competitors. In addition, I feel that a leader must assume own responsibilities. So, in case of a failure, the leader/entrepreneur must assume their own responsibilities. Therefore, I would say that leadership means in other words having strong personality and relevant entrepreneurial capabilities.
What soft-skills someone entering your industry now should focus on improving?
Actually, the most important soft skill for someone entering in Archetipo srl is the ability to learn and adopt with new technologies and new ways of working. For example all our architects are required to achieve the maximum skills and knowledge regarding Revit (a building information modelling software for architects) necessary to build renders to propose to our customers.
What makes a good team leader/manager?
A good team is essential to achieve all established objectives and for contributing to increase the firm's activity. Thus, it is essential to do all duties on time and satisfy all customers' needs.
How important it is in your profession to have a trusted business network and continued learning?
I believe that business network is essential to get global opportunities to improve and extend own business. At the same time, I think that it is always important to continue to learn and we should not stop learning. Also, because the world keeps changing and so, it is important to adopt to future and expected changes. Therefore, it is always essential to adopt new ways to work both locally and both globally talking.
What motivates you?
I am particularly motivated when I not only propose new ideas but I also work on them to apply them and so getting new and potential benefits.
Why did you decide to join Leaders First?
I decided to join to Leaders First for the opportunity to meet people with more experiences than me and so to achieve new skills and especially to extend Archetipo srl brand and offer own potential investment opportunities.
What are your hobbies outside of work?
My main hobbies are writing analytical blogs and practising a lot of sport, in particular I love tennis.
We would like to thank Andrea Viganò for sharing his experiences and knowledge with us. To read more about Andrea, visit his profile on our Community page.